The British Library & Educational Services
First floor, A.K Plaza, Above Easyday, Jail Road, Gurdaspur, Punjab -143521
Timing: 09:00am to 04:00pm | Monday To Saturday
Facilities
✓ AC Classrooms
✓ Smart Classes
✓ Computer Lab
✓ CCTV Security
✓ Single Module Practice
Reviews
Malkeet Singh
Posted on December 15, 2018 | 11:53 AM
RATED 3
Good
Kirpal Singh
Posted on December 12, 2018 | 08:23 AM
RATED 5
Very good center and teachers
Lovepreet Singh
Posted on December 11, 2018 | 12:38 PM
RATED 3
good
BABALJEET SINGH
Posted on December 11, 2018 | 12:34 PM
RATED 5
kaintt
DILJEET SINGH
Posted on August 02, 2018 | 03:02 AM
RATED 5
#stunning@imposing
KOMALPREET KAUR
Posted on March 05, 2018 | 10:44 AM
RATED 4
Very experienced staff friendly atmosphere
KABAL SINGH
Posted on March 05, 2018 | 10:43 AM
RATED 5
excellentn
Dharmpreet Singh
Posted on July 22, 2017 | 13:11 PM
RATED 5
useless app...!!
GURPREET KAUR
Posted on June 30, 2017 | 13:09 PM
RATED 4
environment is good and peaceful
CHARANJIT SINGH
Posted on June 21, 2017 | 12:03 PM
RATED 4
environment is good and peaceful. n
Get BetterThink App
Now, with the BetterThink app, you can learn and further improve your English Language Skills, anytime and anywhere.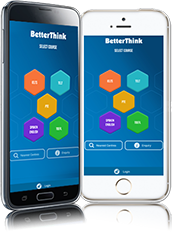 Send Me App Link
Testimonials
It was a wonderful experience to study at one of BetterThink centres. Getting 7 bands effortlessly is a great example of excellent teaching.I am really thankful to all the team members at BetterThink who helped me achieve my desired band score and helped me improve my fluency in English language.
- Udit Arora
I have improved my IELTS Speaking through regular interviews. The proper schedule of all the modules that is followed, ensures that each module is given proper attention and covered properly before the student takes a mock test.
- Amandeep