BetterThink Jagraon
Ground Floor, Bhandari Complex, Adjoining Truck Union, Near Bus Stand, GT Road, Jagraon, Punjab - 142026
Timing: 06:30am to 07:00pm | Monday To Sunday
Facilities
✓ AC Classroom
✓ Smart Classes
✓ Computer Lab
✓ CCTV
✓ Late Evening/Early Morning Batches
✓ Single Module Practice
✓ Certified Teachers
Reviews
Ramanjot Kaur
Posted on July 07, 2022 | 13:13 PM
RATED 5
The dedication of staff is what i liked the most about betterthink. They work with professionalism and manage things efficiently.Tgey make sure that students doubts are cleared as soon as they arise,by providing extra classes.I will recommend this centre
Kuljeet Singh Gill
Posted on July 05, 2022 | 14:16 PM
RATED 5
The center is well equipped with facilities such as Artificial intelligence based learning system, which is not provided anywhere else which has improved my performance to a great extent
Prabhjot Kaur
Posted on July 04, 2022 | 13:05 PM
RATED 4
The centre is well equipped with all the facilities such as, computer lab, tcy software which provide accurate scoring.I have improved alot due to these facilities.
Arshdeep Singh
Posted on July 01, 2022 | 15:50 PM
RATED 5
Staff working here is very cooperative and hardworking. They make sure that students doubts are cleared as soon as they arise.
Sumanpreet Kaur
Posted on June 30, 2022 | 13:08 PM
RATED 5
center is well maintained and staff working here is very kind and cooperative. They listen to students doubts and clear them on priority by providing extra classes.
Ramandeep Kaur
Posted on June 29, 2022 | 13:11 PM
RATED 5
I like this institute and the facilities provided here such as a really good environment and cooperative staff. The smart books and TCY Software are also very unique and aids me in inproving my scores.
Pawanpreet Kaur
Posted on June 29, 2022 | 13:11 PM
RATED 5
This center is very clean and hygienic. They provide all the needed facilities such as better think app, smart books, Tcy software etc.
Jaskaranpreet Singh
Posted on June 28, 2022 | 13:10 PM
RATED 5
Staff is very cooperative and hardworking. Moreover, they provide all the facilities and clear our doubts on time.
Prabhjot Kaur
Posted on June 27, 2022 | 13:03 PM
RATED 5
Staff members are very cooperative and readily clear our doubts. Moreover, it is a clean and hygienic center.
Aastha
Posted on June 24, 2022 | 14:56 PM
RATED 5
indeed ,the staff is quite nice and cooperative ...besides all amenities were provided to us and the smart prep book helped a lot in learning new things ..moreover this app is very helpful in checking my progress and improving im my weak areas
Get BetterThink App
Now, with the BetterThink app, you can learn and further improve your English Language Skills, anytime and anywhere.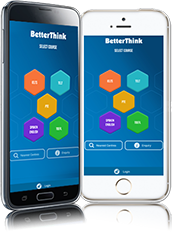 Send Me App Link
Testimonials
It was a wonderful experience to study at one of BetterThink centres. Getting 7 bands effortlessly is a great example of excellent teaching.I am really thankful to all the team members at BetterThink who helped me achieve my desired band score and helped me improve my fluency in English language.
- Udit Arora
I have improved my IELTS Speaking through regular interviews. The proper schedule of all the modules that is followed, ensures that each module is given proper attention and covered properly before the student takes a mock test.
- Amandeep