Timing: to |
Facilities
✓ AC Classroom
✓ Smart Classes
✓ Computer Lab
✓ CCTV
✓ Single Module Practice
✓ Certified Teachers
Reviews
Manjot Singh
Posted on September 30, 2021 | 09:54 AM
RATED 5
amazing
Balkaran Singh
Posted on September 30, 2021 | 09:53 AM
RATED 5
superb
Sukhmandeep Kaur Gill
Posted on September 30, 2021 | 09:48 AM
RATED 5
cooperative staff. Facilities provided are very helpful.
Harmandeep Kaur Johal
Posted on September 30, 2021 | 09:46 AM
RATED 3
👍👍
Fozia
Posted on September 30, 2021 | 09:26 AM
RATED 5
Facilities provided are very helpful or gaining good scores.
Degbir Singh
Posted on September 09, 2021 | 17:54 PM
RATED 5
I am really obliged to study in Better Think BRS Branch . Their I got the best teacher Simar Sir , Taran Mam , Kulwinder Mam , Sinju Mam . They all taught me with utmost efficiency in all the modules. The admin members pumped up me and motivated me when i
Jatin Sethi
Posted on September 05, 2021 | 08:20 AM
RATED 2
The mock I had given on 8th August has not been uploaded till now.
Gurjashanveer Singh Bedi
Posted on August 30, 2021 | 18:12 PM
RATED 5
This institution is the best in town❤️ .They helped me soo much .I feel so blessed that i choose this instituion , some time i feel emotional also that jatin sir did sooo much hardwork with me and taran mam also .All the staff is very friendly h
Simranjeet
Posted on August 26, 2021 | 09:52 AM
RATED 5
satisfied with betterthinks services
Jashanpreet Singh
Posted on August 20, 2021 | 09:29 AM
RATED 5
everythings good
Get BetterThink App
Now, with the BetterThink app, you can learn and further improve your English Language Skills, anytime and anywhere.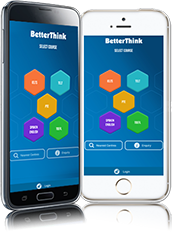 Send Me App Link
Testimonials
It was a wonderful experience to study at one of BetterThink centres. Getting 7 bands effortlessly is a great example of excellent teaching.I am really thankful to all the team members at BetterThink who helped me achieve my desired band score and helped me improve my fluency in English language.
- Udit Arora
I have improved my IELTS Speaking through regular interviews. The proper schedule of all the modules that is followed, ensures that each module is given proper attention and covered properly before the student takes a mock test.
- Amandeep