BetterThink Ludhiana (Fateh Ganj)
2nd Floor, 963, above Muthoot Finance, near CMC, Mohalla Fateh Ganj, Baba Than Singh Chowk, Ludhiana, Punjab - 141008
Timing: 6:00 AM to 08:00pm | Monday To Saturday
Facilities
✓ AC Classroom
✓ Smart Classes
✓ Computer Lab
✓ CCTV
✓ Late Evening/Early Morning Batches
✓ Certified Teachers
Reviews
Simranjeet Singh
Posted on August 10, 2022 | 07:30 AM
RATED 5
I have amazing experience
Gurpreet Kaur
Posted on August 09, 2022 | 07:38 AM
RATED 5
good experience.everyone is cooperative
Harsh Mehta
Posted on August 09, 2022 | 07:15 AM
RATED 5
amazing experience
Gauttam Kochar
Posted on August 04, 2022 | 07:09 AM
RATED 5
no 1 center in Ludhiana
Aanchal Dhingra
Posted on August 04, 2022 | 06:46 AM
RATED 5
best centre for IELTS
Mahesh Singla
Posted on August 04, 2022 | 06:45 AM
RATED 5
I have a great experience there
Navjot Kaur
Posted on August 01, 2022 | 19:35 PM
RATED 5
better think is the best way to improve your English.
Purti Nagpal
Posted on August 01, 2022 | 19:34 PM
RATED 5
Centre is totally very supportive with us. Takes care of every child at every point if the child is not understanding anything. Totally satisfied nd happy with the centre☺️I would suggest each nd every student to choose this centre for IELTS☺️. Th
Simranjeet Kaur
Posted on August 01, 2022 | 19:31 PM
RATED 5
good coaching classes are very good l understand each and every thing because teachers teach very well
Gurpreet Kaur
Posted on July 29, 2022 | 14:13 PM
RATED 5
very nice center for ielts coaching
Get BetterThink App
Now, with the BetterThink app, you can learn and further improve your English Language Skills, anytime and anywhere.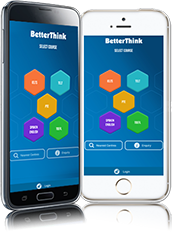 Send Me App Link
Testimonials
It was a wonderful experience to study at one of BetterThink centres. Getting 7 bands effortlessly is a great example of excellent teaching.I am really thankful to all the team members at BetterThink who helped me achieve my desired band score and helped me improve my fluency in English language.
- Udit Arora
I have improved my IELTS Speaking through regular interviews. The proper schedule of all the modules that is followed, ensures that each module is given proper attention and covered properly before the student takes a mock test.
- Amandeep