Timing: to |
Facilities
✓ AC Classroom
✓ Smart Classes
✓ Computer Lab
✓ CCTV
✓ Late Evening/Early Morning Batches
✓ Certified Teachers
Reviews
Divyansh Thakur
Posted on April 05, 2021 | 21:50 PM
RATED 5
good going
Divyansh Thakur
Posted on March 19, 2021 | 18:02 PM
RATED 5
Staff is very supportive
Sonia
Posted on February 20, 2021 | 09:30 AM
RATED 2
washroom water problem are hering please sort out this problem
Nitish Kumar
Posted on February 02, 2021 | 19:30 PM
RATED 3
Schedule is not preferable. Class starts with module it does not sound good to me.
Gautam Sharma
Posted on January 29, 2021 | 09:43 AM
RATED 3
institute is good but teachers are continously being changed...
Mandeep Kaur
Posted on December 22, 2020 | 16:51 PM
RATED 5
All staff of this institution are very talented and well qualified.They are very helpful.
Kitty Setia
Posted on December 22, 2020 | 14:59 PM
RATED 4
Well according to me there is no need of suggestion still ....I am satisfied with my teacher harsh sir His way of teaching is fantastic ....
Kusam
Posted on March 26, 2020 | 09:46 AM
RATED 1
Everybody suffering from this difficult situation. So how we will join online classes. Even tomorrow i checked online class i could not understand anything. Some time we are not free for class time so i request you please you should leave online classes s
Jaity
Posted on March 16, 2020 | 10:08 AM
RATED 5
very helpful staff members
Jyoti Bhatti
Posted on February 24, 2020 | 14:18 PM
RATED 5
good
Get BetterThink App
Now, with the BetterThink app, you can learn and further improve your English Language Skills, anytime and anywhere.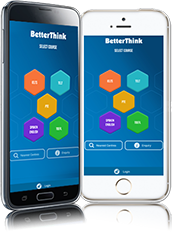 Send Me App Link
Testimonials
It was a wonderful experience to study at one of BetterThink centres. Getting 7 bands effortlessly is a great example of excellent teaching.I am really thankful to all the team members at BetterThink who helped me achieve my desired band score and helped me improve my fluency in English language.
- Udit Arora
I have improved my IELTS Speaking through regular interviews. The proper schedule of all the modules that is followed, ensures that each module is given proper attention and covered properly before the student takes a mock test.
- Amandeep