Timing: to |
Facilities
✓ AC Classroom
✓ Smart Classes
✓ Computer Lab
✓ CCTV
✓ Late Evening/Early Morning Batches
✓ Single Module Practice
✓ Certified Teachers
Reviews
Ramandeep Kaur
Posted on July 16, 2021 | 14:14 PM
RATED 5
The way of teahing is amazing,, study material is totally different from other institutions nad CZ help me to cover my weak areas..like reading comprehension
Gurpreet Kaur
Posted on July 13, 2021 | 20:15 PM
RATED 1
not yet
Ramandeep Kaur
Posted on April 01, 2021 | 14:15 PM
RATED 5
serene environment for study,facilities are also fine.
Shivika Bhardwaj
Posted on June 09, 2020 | 22:42 PM
RATED 1
Every part of IELTS should be practised practically
Arun Kumar Pal
Posted on November 16, 2019 | 17:54 PM
RATED 5
overall experience in better think is very good
Arvinder Singh
Posted on November 04, 2019 | 19:46 PM
RATED 5
Excellent class today, all the facilities provided by better think are up to mark.
Inderjeet Kaur
Posted on November 04, 2019 | 19:28 PM
RATED 5
Facilities provided are quite impressive and advanced.
Gurneel Kaur
Posted on November 04, 2019 | 19:11 PM
RATED 5
classes are going very well. I am veey happy to be the part of this center.
Akshay Goel
Posted on September 23, 2019 | 12:34 PM
RATED 5
excellent
Hemant Kumar
Posted on September 10, 2019 | 17:06 PM
RATED 5
good experience
Get BetterThink App
Now, with the BetterThink app, you can learn and further improve your English Language Skills, anytime and anywhere.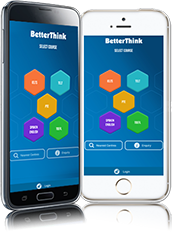 Send Me App Link
Testimonials
It was a wonderful experience to study at one of BetterThink centres. Getting 7 bands effortlessly is a great example of excellent teaching.I am really thankful to all the team members at BetterThink who helped me achieve my desired band score and helped me improve my fluency in English language.
- Udit Arora
I have improved my IELTS Speaking through regular interviews. The proper schedule of all the modules that is followed, ensures that each module is given proper attention and covered properly before the student takes a mock test.
- Amandeep