BetterThink Ludhiana (Sarabha Nagar)
SCF-3, Near Bikaner Mishthan Bhandar, Sarabha Nagar Market, Ludhiana, Punjab -141001
Timing: 06:30am to 08:00pm | Monday To Friday
Facilities
✓ AC Classrooms
✓ Smart Classes
✓ Computer Lab
✓ CCTV Security
✓ Late Evening/Early Morning Batches
✓ Single Module Practice
✓ Certified Teachers
Reviews
Meenakshi
Posted on February 20, 2019 | 09:40 AM
RATED 5My experience is good till now. I m learning new things everyday. I want to score good bands. I am preparing and working hard
Sheikh Minhaz Ali
Posted on February 19, 2019 | 20:52 PM
RATED 1.
Satpal Kaur
Posted on February 15, 2019 | 13:45 PM
RATED 5I finish my remedial yesterday, it is very helpful me
Chetan Jangra
Posted on February 14, 2019 | 08:48 AM
RATED 5I really like bt app it helps me alot to keep a track of my performance
Harinder Singh
Posted on February 14, 2019 | 08:45 AM
RATED 5we now have a new feature of challenge zone with this I can do challenge zone and improve my skills whenever and wherever I want through my phone.
Get BetterThink App
Now, with the BetterThink app, you can learn and further improve your English Language Skills, anytime and anywhere.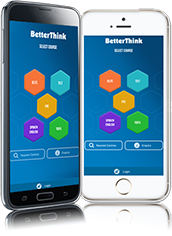 Send Me App Link
Testimonials
It was a wonderful experience to study at one of BetterThink centres. Getting 7 bands effortlessly is a great example of excellent teaching. I am really thankful to all the team members at BetterThink who helped me achieve my desired band score and helped me improve my fluency in English language.
- Udit Arora
I have improved my IELTS Speaking through regular interviews. The proper schedule of all the modules that is followed, ensures that each module is given proper attention and covered properly before the student takes a mock test.
- Amandeep