Timing: to |
Facilities
✓ AC Classroom
✓ Smart Classes
✓ Computer Lab
✓ CCTV
✓ Late Evening/Early Morning Batches
✓ Single Module Practice
✓ Certified Teachers
Reviews
Ishmeet
Posted on August 13, 2021 | 20:08 PM
RATED 5
best center
Ishmeet
Posted on August 09, 2021 | 21:35 PM
RATED 5
Great teacher, great institute, great experience, looking forward to get desired bands. will definitely recommend other people.
Manavdeep Singh
Posted on August 03, 2021 | 16:04 PM
RATED 5
quiet happy with the facilities and services of the institute. Will definitely recommend others.
Prabhnoor Singh
Posted on July 31, 2021 | 12:54 PM
RATED 5
Im grateful to be a part of this institute. They are concerned about performance of each student and help them in every way. Great work.
Sagar
Posted on July 30, 2021 | 09:00 AM
RATED 5
Quiet happy with the extra attention by the teachers of sarabha nagar branch as i am weak in speaking qnd they are providing me extra tips and tricks according to my weaknesses and shortcomings. Grateful to be a part of Better Think institute.
Parampreet Singh
Posted on July 28, 2021 | 11:39 AM
RATED 5
They listen to the student query and issues and help them accordingly by arranging one to one sessuon with the teacher, which is very appriciable. Very well satisfied with the services.
Yashika Bajaj
Posted on July 22, 2021 | 17:03 PM
RATED 5
great service
Apurva Lomsh
Posted on July 17, 2021 | 10:57 AM
RATED 5
very nice services
Prabhjot Singh
Posted on July 14, 2021 | 09:17 AM
RATED 5
excellent support system.
Ekjyot Singh
Posted on March 31, 2021 | 11:04 AM
RATED 5
Very good experience
Get BetterThink App
Now, with the BetterThink app, you can learn and further improve your English Language Skills, anytime and anywhere.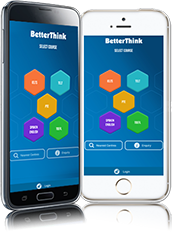 Send Me App Link
Testimonials
It was a wonderful experience to study at one of BetterThink centres. Getting 7 bands effortlessly is a great example of excellent teaching.I am really thankful to all the team members at BetterThink who helped me achieve my desired band score and helped me improve my fluency in English language.
- Udit Arora
I have improved my IELTS Speaking through regular interviews. The proper schedule of all the modules that is followed, ensures that each module is given proper attention and covered properly before the student takes a mock test.
- Amandeep